35 malicious apps with potential to harm your smartphone identified; delete them ASAP
Installing an app of your choice on your smartphone simply takes a couple of clicks, but you should be wary. Some of the apps come with malware that could harm your handset. A new report from Bitdefender suggests that the Google Play Store has as many as 35 malicious apps that could bloat your phone with malware. The apps reportedly send advertisements and also change their name and logo once they're installed on your smartphone. Per the report, the apps have been installed on smartphones by potential victims over 2 million times—when considering publicly available data. Here's the list of the 35 identified apps on the Google Play Store:
Remove these apps or avoid installing them if you come across them:
Walls light – Wallpapers Pack
Big Emoji – Keyboard
Grad Wallpapers – 3D Backdrops
Engine Wallpapers – Live & 3D
Stock Wallpapers – 4K & HD
EffectMania – Photo Editor
Art Filter – Deep Photoeffect
Fast Emoji Keyboard
Create Sticker for Whatsapp
Math Solver – Camera Helper
Photopix Effects – Art Filter
Led Theme – Colorful Keyboard
Keyboard – Fun Emoji, Sticker
Smart Wifi
My GPS Location
Image Warp Camera
Art Girls Wallpaper HD
Cat Simulator
Smart QR Creator
Colorize Old Photo
GPS Location Finder
Girls Art Wallpaper
Smart QR Scanner
GPS Location Maps
Volume Control
Secret Horoscope
Smart GPS Location
Animated Sticker Master
Personality Charging Show
Sleep Sounds
QR Creator
Media Volume Slider
Secret Astrology
Colorize Photos
Phi 4K Wallpaper – Anime HD
If you have got any of these apps installed on your device, we would advise you to uninstall them right away. As mentioned above some of the apps could have changed their names and icons, so check each and every app and remove anything that looks fishy.
These apps can harm your phone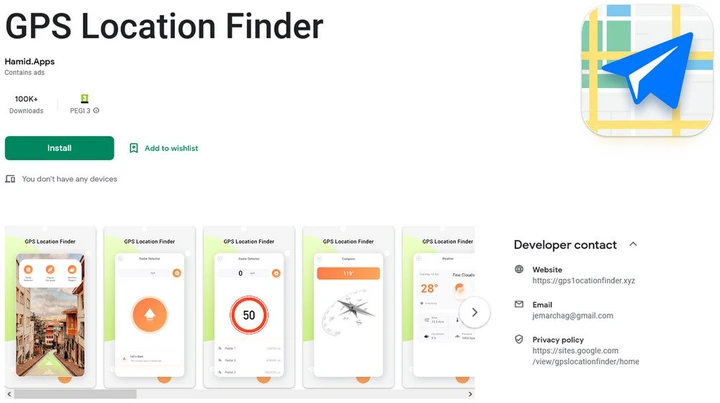 Researchers at Bitdefender, which have unearthed 35 apps available on Google Play Store, claim that these apps, after installation, change their name and go on an advertisement spree. "One of the ways cyber-criminals monetize their presence on Google Play is to serve ads to their victims. While this may sound diminutive, these ads served to victims are disrupting the user experience and can link directly to malware", says Bitdefender in the post.
On the Android app marketplace Play Store, these apps have over 100k+ downloads with countable-on-fingers to no reviews. Over 2 million users have installed at least one such app on their smartphone. One of these apps, "GPS Location Maps," downloaded over 100,000 times, has no reviews on Google Play Store. Immediately after download, the app displays websites in WebViews, an advertisement, and changes its name from "GPS Location Maps" to "Settings."
How to check the safety of an app
Here are a few things you can do before downloading the app on your phone:
Check developers name
Download apps by the original developer
Check out reviews and rating
For Breaking News and Live News Updates, like us on Facebook or follow us on Twitter and Instagram. Subscribe us on Telegram and never miss a update!